Writing and Art from the Middle and Beyond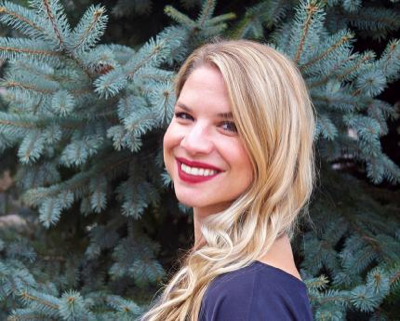 Jenny Molberg is the author of Marvels of the Invisible (winner of the 2014 Berkshire Prize, Tupelo Press, 2017) and Refusal (LSU Press, 2020). She is the recipient of a 2019-2020 Creative Writing Fellowship from the National Endowment for the Arts, as well as scholarships and fellowships from the Sewanee Writers Conference, Vermont Studio Center, and the CD Wright conference. Her work has recently appeared or is forthcoming in Ploughshares, Gulf Coast, Tupelo Quarterly, Indiana Review, The Missouri Review, and other publications.· She teaches creative writing at the University of Central Missouri, where she directs Pleiades Press and edits Pleiades magazine.
Artist Statement
Poetry, for me, is a way of writing through experience, a way to say the unsayable, and a kind of language-making that allows for emotional truth in ways that are not necessarily accessible in prose. My recent poems, collected in the forthcoming book Refusal (LSU Press), arose out of experiences with emotional abuse and gaslighting, both on a personal level and on a larger scale—I am interested in addressing and confronting the ways in which patriarchal structures of power affect and oppress our society at large. The poets I love to read are gifts during times of hardships, and it is my hope that my work can reach one person who recognizes themselves or their experience in the language and takes solace in the space of the poem.
Poetry is also a catalyst for community in my life, a life of academia and writing that is often solitary, transient, and sometimes isolating. Two-and-a-half years ago, I moved to Kansas City, where I became better acquainted with the wonderful I-70 Review, as well as a group of women poets in the region, who have become my confidants, friends, and trusted readers. My recent poems address female friendship in this regard—in the wake of my divorce, the trauma of abuse, and isolation in a new town with a new job, I found myself writing love letters, or epistles, to my friends. I will always believe in the power of language to allow us to break silences, and it is my hope that through the love language of poetry, I'm stringing up a telephone wire and speaking across the open chasm of the unsayable, just as poets I hold dear have done for me.
Note
He said he would hang himself
so as not to make a mess.
But he was still there the next day.
And the next. And the next.
He wrote the note for the cops
on a page he tore from my favorite book
of poems. That's all I saw of it—
in absence—the ripped-out page
like a jagged fin down the spine.
What is my body but a rainstorm?
What are my bones
but flightless shards of light?
I did not feel secure,
though I married the only man
I believed was safe. Two children.
Three dogs. The dying cat.
Papers signed and unsigned.
The woman who pasted her face
over mine in our pictures
and mailed them as proof of their affair
before she tried to kill herself.
This, too, he does not tell me.
In the dream, he cuts
the air around my body
with a giant pair of scissors,
origamis me
until I am small as a ring-box.
In I go, with the rest
of my clothes, to the cardboard crate
where dress-sleeves stick out
like the arms of paper dolls. I nestle there.
I fold and fold. I try to disappear.
—Originally published in Ploughshares
Different Kinds of Sadness
to E.A.H.
Sometimes a friend can save your life,
as when you drove in from Albuquerque
the day I left the man I thought would kill me.
We went to the train station and sat
among the Beaux Arts pediments and bas-reliefs
having a cocktail called the Manhattan, Kansas.
You brought a package of fresh tortillas,
some butter, some cheese—we'll survive,
the we a sort of kindness, a kind of sadness.
The drinks were garnished
with shriveled figs instead of maraschinos,
which was a different kind of sadness.
The station was built in 1914
and no one who can remember 1914 is left.
Your eyes began to time-travel
behind your white-rimmed glasses
and I knew you were thinking about your son.
The lives we have chosen not to live
are enough to fill the whole day's trains
with ghosts and ghosts and ghosts.
But there are also people
who have known you forever,
which is yet another kind of sadness
because you've only just met.
—Originally published in The Missouri Review
Epistle from the Hospital for Harassment
to B.L.
As in a house of mourning / cover the mirrors / Save yourself from yourself
/ Open the windows / Feed your history to the night / Do not wrestle / against your story / let it keep happening / then kill it— / the poet who invited you for coffee / a manila folder of poems / meticulously typed / and tucked beneath your arm / all those beats and breaks / silenced / as he thrust his hand on your hip, saying Sweetheart, try your hair in a bun / and What about glasses / If you wore glasses men wouldn't notice you so much / Or your colleague who poked / a bruise on your thigh / guessing at its origins / Or the man who made the bruise / Honey, you're not as stupid as you look— / Cast it out / until the night is so full of the feathers of your thoughts / it grows the giant wings of a crow / takes off— / Now lie before the curtained mirrors / Forget what you look like / For better is a wandering eye / than the two you clench shut / waiting for him to finish
—Originally published in The Journal
Chrysalis
Butterfly rainforest chrysalis webcam,
Florida Museum of Natural History
I want to see, somewhere,
the hot, cocooned unfolding
of metamorphosis. The caterpillars
are flown in from El Salvador,
or New Guinea, and inside
the dewed glass, shadows
of men in white coats cloak
the tic of emergent wings—
What of the future do you hold
inside yourself? See: if you take a scalpel
and puncture the chrysalis,
it will explode—yellow goo
of cells, burst cells, amino acids,
proteins, here a bit of gut,
here a bit of brain.
A thing builds a shell around itself,
dissolves, becomes another thing.
The way, when you are wrecked
with love, you take only what you need,
you, liquid version of yourself,
all heart cells and skin cells—
here a trough of heart,
here, gutter of liver, channel
of hearing or touch. What remains,
as with the caterpillar, is memory.
See, we melt entirely.
I have been a child, a lake, a glacier,
glacial pool, woman, river of woman,
another woman, an older one.
The oldest scientist asks, if we are all
creatures of transformation,
if we are never quite the same
what are we
when we arrive at the moment of death?
It is easier to think in death
that I am me, but dying. See: 1668.
The Dutch naturalist Jan Swammerdam
dissects a caterpillar for Cosimo de Medici.
And though we now think
everything ends,
turns to soup, to river, to ash
and what's passed is past, he unfolds
the white sides of the insect and reveals
two wing-buds, tucked
tight inside the skin.
Now, as I watch the knife
pierce the chrysalis,
a river of cells swelling through
and out, I remember
what my father once said,
that what you see is only a fraction
of what you can believe,
and against the edge of the chrysalis,
embryonic half-wings twitch
without a body, waiting
for their slow decay, and then
for the next body
that opens itself
to the risk of flight.
—Published in Marvels of the Invisible, Tupelo Press
The Wolf of Coole Park
On our honeymoon, my new husband
says he misses his children,
wants to go home. The green hills
vanish like animal eyes closing in the dark
of the park's constant drizzle.
I am not proud of my anger
but a lie can turn the body inside out.
My collected Yeats is getting wet
and I hold it inside my shirt like a pistol.
We pass a stone inscribed:
the bell-beat of their wings above my head—
the absence in my belly is the lake's gray lack
of swans, though I think I see something
white and ruffled on the far shore.
The wind, knocking love loose.
I walk the path into the Seven Woods,
wanting to be lost. But he catches up. ·
Then, in the distance, a gunshot—
a growl thickens within the trees.
Did you hear that? he says. Yes
I say, and think all is lost between us.
I will leave him standing there,
will always follow this hungry phantom
deeper into the woods.
—Originally published in Pilgrimage
Epistle from the Hospital for Text Messaging
to T.B.
I have made of myself a rabbit.
I can no longer speak. Language
is only the click click click of my heart
ticking faster now.
I stepped out of my dress.
I autofilled myself. I slipped
the gray skins over my head.
I know you love to watch the animal
of me, my fast-pounding brain.
How I enter the garden
to pluck berries with my teeth,
then the (...) (...) (...) of my leaving.
I know you love to watch the end
of me. I vanish beyond the field
whose borders I built
with your thousand barbed unsaids.
I vanish into the sky.
I vanish into the moon,
this lemon slice of dead volcano.
Here I wait, my fingerless ears
poised as satellites, projecting my rabbit-
shaped silence on space's blank walls.
Something I don't understand about myself
makes people want to hurt me.
—Originally published in Gulf Coast
The Night I Left
I said goodbye to the boys'
boyless rooms and the stuffed animals
blinked their plastic eyes,
folded their muppet arms.
The towel shaped like a monkey
bowed its flimsy head, the ghost
of a child still dampening its matted chest.
I'm sorry, I said to the towel.
I'm sorry, I said to the monster
their mother had knit in blue yarn.
I'm so sorry, I said to the cat
who sounded his soundless mew,
leapt from the bed, and skulked
out of the room. I turned off the lights.
Years passed. Then I was this woman
saying I'm sorry, I'm so sorry
until it meant nothing, and someone else
came to carry me to bed.
—Originally published in The Stirring
Giant Squid as Emblematic Feminist
My eyes outsize your wedding china.
I wear my illusion as a cloak. You want to see
all of me? Your silence will unveil
my silver light. The sperm whale: the only one
who can swallow me whole. He wears
my teasing beak as an ornament,
will never unfeel me, never know the lonely
unwrapping of my circled hug. When I wave
to the scientists in their bubble, they say
fan dance, but no, my sway is divination,
the awakening of moon, of carnal light.
Did you know I hold my eggs in my arms?
Did you know, when I let fall the closed blooms
of my tentacles, I am the same shape
as your womb? That I am the mantle
illuminating your face in awe? That I
am a mirror through which you see the face
of the female scientist who discovered me.
That when you see her face, you'll see your own.
Dissect me. You'll find an inkwell there.
Stop looking ahead. Look further down.
—Originally published in Redivider
House of Making
Why have we stopped building shrines?
The human body in grief is a shrine.
No, the human body is made almost entirely of water.
The grieving body is limestone and sandstone and onyx.
When he died, I woke and knew. I had not seen him in years.
I searched online. The first result: his eulogy.
The body in love is made entirely of water.
I spent hours watching the radar, waiting
for the pain to curl down as a wave.
The body in death is soil and dust and flame.
What was I waiting for? An answer? An explanation?
When we lose someone young, we want something to build.
The body in grief is mortar and brick and sweat.
When the shrine is built and the buildings are empty, we long for another body.
The body in desire is vein and gall and pen and paper.
You want to know why he left the earth.
I want to know why I should stay.
A physicist has killed a yeast cell, amplified its sounds. Listen.
Many hands clapping. Cicadas. The sound of wings.
The sound of one cell dying and the earth's answering.
The music of one death. All the world continuing.
Yes, the sound of the body in prayer is made entirely of water.
Yes, it is made of yes, yes, yes, yes, yes.
—Published in Marvels of the Invisible, Tupelo Press
Matryoshka
For some reason, the early nesting dolls depicted
what appears to be a family without a father.
-The Mendeleyev Journal
I.
When you take away the children
the mother is empty. Her round head
shrouded in red, her lips thick
and pursed, her cheeks rouged
with big circles of flush. And her eyes—
she is keeping her inside secret.
The matryoshka's arms, creased
with plump, hug
a glossed rose. Sprigs
of cornflower and baby's breath.
If you look closer, a thin line
cuts the rose. This is where
the mother is broken.
II.
I have discovered the mother
inside the mother. Her eyes
are dark like mine. She doesn't want
what is inside her. Her arms:
thin. Her collar: drab.
Her lashes: straight.
Her flower is not a rose. This mother
fits better in my hand. When I pull
her open, she creaks.
III.
The last mother has no arms,
no dress, no collar.
But she is smiling.
She breaks willingly.
I turn her open
and find myself. Each daughter
becomes my mother and I become
each mother. I hold myself
in my hand. This is my secret—
I have seen how small
I can be. I will put
the wooden child back inside me.
And the woman inside me. And the woman
inside me. And the woman inside me.
—Published in Marvels of the Invisible, Tupelo Press