Writing and Art from the Middle and Beyond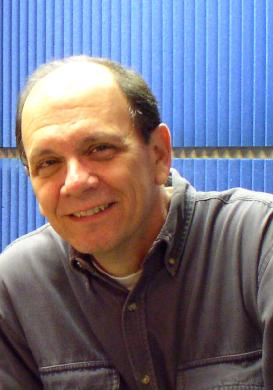 Robert Stewart is author of Outside Language: Essays (Helicon Nine Editions, a finalist in the PEN Center USA Literary Awards for 2004; winner of the 2004 Thorpe Menn Award), Plumbers (poems, BkMk Press), the monograph On Swerving: The Way of William Stafford (Literary House Press), and others. He is editor of New Letters magazine, BkMk Press, and New Letters on the Air, a nationally syndicated literary radio program at the University of Missouri-Kansas City. In 2008, he won the National Magazine Award for Editorial Excellence in the Essay category (and was a finalist for that award in 2007) from the American Society of Magazine Editors. Recent poems have appeared in The Iowa Review, Denver Quarterly, Poetry Northwest, Prairie Schooner, Mangrove, Stand, Notre Dame Review, Literary Review, (and forthcoming, I-70 Review and other magazines). Anthology editorships or co-editorships include Spud Songs: An Anthology of Potato Poems (with Gloria Vando), Voices From the Interior, and Decade: Modern American Poets (with Trish Reeves). He co-edited the collection New American Essays (with Conger Beasley Jr., New Letters/BkMk Press, 2006).
ICE AND FREEZING RAIN
Out of whose womb came the ice? and the hoary
frost of heaven, who hath engendered it?
Job 38:29
Transformers explode each side
of State Line, the sky arcing blue
as a jukebox giving up its final song.
The silver maple seems barely
to bear its own weight, an extra
ring of age forming all in one night.
"We're living, but we're dead,"
I hear on battery power from Turkey
after a quake. Across the world,
it's January. Each shiver, each
cannon shot, turns us to the window
for what is about to appear.
One block over, repair lights cluster
around a pole. They revolve
like bouquets of yellow mums.
The top of the maple avalanches
into our yard; lag screws
drop their lines, the meter box
bapping in the driveway –
it ignites a blister of accusations.
Our only sin is melancholy.
At the café on Southwest, cabbies,
a preacher, Angela the waitress,
ask if I have power. It is this:
Nowhere can the cold escape
our understanding. A scrim of ice
sanitizes my toilet bowl and frosts
the bathroom faucet, nearly new,
with its silver crane of a neck.
The world coughs, and I cough.
Behind the incompetence of walls,
huddled bodies cannot clear ice
from the tips of their noses.
At the supermarket, ceiling lights
dim on generator. Each of us
squeezes suspect farmer's cheese,
like mendicant monks who ask only
to understand this world, how ice
gathers on a thing and brings it down.
— Originally in The Kansas City Star.
71 HWY THE MOMENT OF CHANGE
I'd rather lose an hour than gain an hour.
I'd rather be passed than pass.
I see a sign for the Halfway Café,
too late.
I'd rather turn around than get home.
The one-biscuit order of biscuits and gravy
has two biscuits.
I swear it's a mistake, but she says, No.
No mistake.
I'd rather be wrong than right.
I tip too much rather than sour
someone's pumpkin smile.
Everyone has idle hands.
My computer at home has set its own
clock to standard time.
Think about what happens in the hour
that appears one morning.
The hour that flies around the city,
looking like a bellows.
I'd rather trust than know for sure.
The sky's bright lanes peak through
chinks in a barn.
Water towers take to the top of the world.
Streets run to the high one-hundreds.
Thus it is I discover I'm behind.
I'd rather go to the seasons than they
to me.
I'd rather my computer checked before
it did things.
— Orignally published in Writing Poems,
(Addison, Wesley, Longman, 6th ed.)
TO A TURTLE
I am slow, too.
Here's the wide road--
it's a chance--
and a shell is, so far,
a kind of wing
to escape on.
My house in Waldo, truck,
have no value
in this discussion.
I am talking
how we move east
at about 65, and you move
north, at what –
point zero, point one?
Nothing to distract you
but a smell of water,
or the pool of the moon
on your back
like a dark headlight,
you reckless driver.
⎯ Orginally in 90 Poets of the Nineties
(The Seminole Press).
GUIDE TO THE OUTER ISLANDS
Laying myself down in the passing lane
of North Lindbergh years back, by then
Sunday morning, leaving the beer joint so far
past midnight, Bob, my absolute sidekick,
had time to drag my body back to the gravel lot,
big as I was compared to him, and take my keys.
This was after the redhead drove off,
leaving a scrap of paper with a phone number
but driving off, nonetheless; Bud neon
flickered in the window and popped
to black. You always go for the red heads,
Bob said, as if he knew, as should I, desire
for red hair leads nowhere. The Red Queen,
herself, said it takes all the running you can do
to stay in one place. In mid Lindbergh,
facing up and spread eagle, one could fly
to the outer islands, then, their houses
roofed with grass, to hunt and eat whales
and wind-dried fish from the blessed sea.
The dark-haired one really liked you,
Bob would say, friend and counselor,
knowing red heads were impossible to me
in a neighborhood of dark, Sicilian girls;
but among the tables, smoke, and ashes,
arms swinging as the night turned late,
there seemed to appear some signal fire,
a hyacinthine flower of the Faeroes or Finland –
a boreal copper sky swirling among bands
of light in the juke, filling the jar on the bar
with the pale-blue eggs of a gannet, perhaps
like the blouse of Mary. Forgive me, you girls
and cousins of Italy; so skinny were you
in your short, black, Gina Lollobrigida hair,
I didn't know your beauty or how you loved me.
I wanted to turn toward the sky, myself;
and Bob would say to me, Hair that red
isn't even real, nor, I knew, was the spark
ignited at their phoney ends, good friend
and only purveyor of truth. So what?
he'd say. So she drove off in the top-down
Karmann Ghai, the little bottle rocket
of her hair on North Lindbergh going dark
and refiring at each light standard, as far,
at least, as the Shell at Charbonier.
— Originally appeared in The Girl With Red Hair
(Serving House Books)
TO MY SON, FROM A CABIN ON THE TRAIN
We made the northern
Rockies in our sleep,
descended into hemlock
and Douglas fir
on the western slope
of the Cascades.
Everything is just
as I imagined.
I woke once, like this,
on a train to Rome,
and we had made
the Mediterranean
in our sleep.
The sea of Lupo &
Giacopelli raised
its face to the mirror.
No one had told me
there were palm trees
in our family.
The seats here change
into a sleeper
along the window;
and moon on snow lights
the mountain, a shipwreck
in the middle of a dream.
I hate to go to sleep.
When a person moves,
Indians say, it is he
who has changed,
not the land.
Snow-feathered mountains
circle the water.
I see stone-black eyes
of salmon at 5,000 feet
and great green heads
of mallards on the sound.
We are following it in.
Notice how a single
voice can wake us,
how the shaved face
of the Olympics hangs
there in a cloud,
and now, how suddenly
we have this city
built on seven hills.
One hill filled marshes in
for building lots,
while you and I were
doing who knows what.
We are sleeping
and we are traveling
where inlets, windows,
seamless welds have us
coming to attention.
There is room for you, here,
in econo-class with me.
The stones along the shore,
an old chief has said,
are loud with memories.
— Originally appeared in The Connecticut Review.